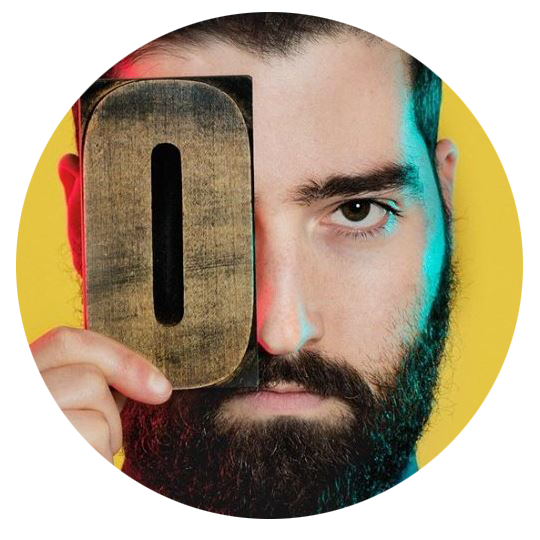 I developed a passion for graphics already in my teens when, at 12, I started designing small football-themed magazines with the mythical Olivetti Lettera 62 that I found at home. 
At 14 I enrolled at the Carlo Urbani High School of Industrial Graphics in Rome. In those years I have become very passionate about digital art and in 2007 I won a national contest (Marte Live) which allowed me to do a personal exhibition and participate in other group exhibitions. I published some of my works on "WDE - Web Designer Experiments" in 2002 and on "NEW MEDIA DESIGN" by Alberto Cecchi in 2008, both by Sometti Publisher. 
As soon as I graduated, I immediately began my career thanks to a contract with Quintily SpA for which I followed for 9 years the publishing and printing production of important companies such as Ford, Toyota, FAO and many others. 
In 2010 I enrolled in the Master of Art Direction and Creative Design coordinated by Andrea Ferolla at the IED in Rome, to deepen the themes of design and creative direction. 
In 2010 I was hired by Rotostampa Group srl to take care of all online and offline communication as Creative Director of the Sprint24.com brand, one of the largest web-to-print in Italy and France. 
In 2014 I also simultaneously undertook a career as a freelancer that led me to follow various companies, mainly Italian, offering offline services of Editorial Design, Brand and Corporate Identity, Packaging and Artworking but also online as UI design, Prototyping, Social Media Content. In the same year one of my works, an artwork and packaging for the musical group The Shadow Line, was published on Choi's Packaging vol. 5 published by the Shanghai publishing house "Chois Publishing". 
In 2019 I successfully completed a Master in User Interface Design under the direction of Gaia Zuccaro at the Talent Garden in Rome. 
Finally, in 2020 together with my friend Alessandro Lauriola I founded
Spazio Bianco studio
. A reality that aims to help small and medium-sized Italian companies to express their communicative potential through strategic consultancy and the creation of creative assets to make their presence in the market profitable and of quality.